Are you ready to build your knowledge in mental health and Indigenous engagement?
Our style is supportive, interactive, and fun.
We strive to help you build psychologically and culturally safer spaces for individual, community, and workplace wellbeing. Reciprocity and good relations are foundational to our teaching philosophy and we have a team of facilitators to support this work. Our educational webinars and workshops on mental health topics are evidence-based and are led by a Registered Psychologist – lean on a trusted expert to support you or your organization in a cost-effective way.
Webinars are short (1-2 hours) and generally passive learning, while workshops are longer, multi-day, and have much more interaction between participants and facilitator.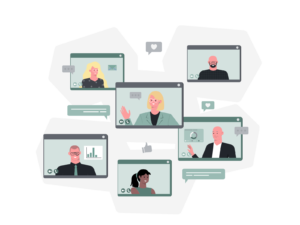 Employers: If you'd like to book any of our offerings for your staff, please contact Monica Naber at monica@edifiedprojects.com to learn more.
Employee Family Assistance Program providers: If you'd like to contract us to provide value-add sessions for your clients, please contact Monica Naber at monica@edifiedprojects.com to learn more.
Short Webinars
Family Wellbeing Webinars
Indigenous Engagement & Intersectional Approaches – Webinars
Contact Monica Naber at monica@edifiedprojects.com to book any of our webinars.
Interactive Workshops
Relationship Enrichment
This psycho-educational workshop, developed by the Gottman Institute, provides couples with foundational knowledge on healthy relationships as well as the opportunity to practice practical hands-on activities. The seven principles are helpful for couples at any stage of the relationship. Participants will receive a Couples Guide in addition to the Seven Principles for Making Marriage Work book. Session activities will include both group and couples-only breakout rooms.
View the full course description
Facilitator: Monica Naber, R Psych
Indigenous Engagement & Intersectional Approaches – Workshops
This workshop will be held in 3 parts over the course of 2 weeks, building in time for reflection and preparation. The first will cover why we do Land Acknowledgements and what is generally included in them, including how you can develop your own personal and authentic acknowledgement. The second session will be an informal chance to ask questions after you have taken a first try at crafting your own Land Acknowledgement. The third session will be in a virtual sharing circle format. This is an opportunity for you to share your Land Acknowledgement for the first time in a safe space. Participants will leave this workshop with their own personal and authentic Land Acknowledgement, the knowledge needed to adapt this to every setting, and will have shared theirs verbally in a sharing circle.
Facilitators: Alicia Hibbert, Becca Shortt, Destiny Chalifoux, and Kyle Durocher
These workshops will consist of 2 sessions held over 2 weeks. In our first session, we begin with an introduction to the concept of reciprocity - the idea of balanced and respectful, give and take - in Indigenous engagement. From reciprocity, we begin to understand the importance of reparations, which includes the concept of "Land Back". Reparations can be harmful if they are not sustainable. To be meaningful, reparations need to consider where energy, capital, resources, and time are best placed so that Indigenous rights, culture, knowledge, and ontology can thrive. Participants will leave with reflection questions needed to create their own reparations action plan. In the second session, participants will ask any remaining questions they have and share their plans. Participants will leave with a reparations action plan.
Facilitators: Alicia Hibbert & Becca Shortt
Custom Learning
Please fill out this intake form so we can get a sense of your goals. We are a team of mental health and Indigenous engagement experts who create custom workshops, newsletters, and resources.
Disclaimer
The information and resources presented in these workshops are for informational and educational purposes only. These are not clinical advice or treatment. If you are experiencing significant distress, seek treatment from a qualified professional. Mental health services are available through your province's health services. If you or a loved one are in crisis, call 9-1-1 or present to the nearest emergency medical centre.
For Alberta residents you can connect with Alberta Health Services.
For British Columbia residents, there are resources and services available to you.
Finding a Psychologist
Most provinces have a professional association of registered psychologists for their province. These associations typically have a referral search feature to help you find a psychologist in your area. Below are the links to the Psychologists Association of Alberta and British Columbia. Psychologists typically pay a fee to be a member of these webpages, so the search results are limited to those who chose to pay that membership fee. The Alberta Government has also provided an overview of mental health resources.
Find A Psychologist – Psychologists' Association of Alberta
Find a Registered Psychologist | BC Psychological Association